Dawn's greatest hits
A NASA video lists the main scientific activities of the mission, as it leaves the orbit of VESTA and heads towards Ceres.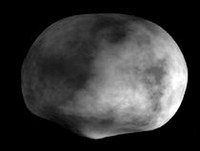 The NASA mission Dawn has left the orbit of Vesta. In a movie compiled for the occasion, NASA tells us the most important scientific results of this year's mission. Scientists, researchers and many team members have gathered virtual social media to celebrate the departure, in an event called "Hasta la Vesta". The next meeting will be with the asteroid Ceres, expected to be in 2015.
Read the full story and watch the video here: http://www.media.inaf.it/2012/09/10/i-greatest-hits-di-dawn/