Astronomy: here is astroEDU Italia
An educational platform for students and teachers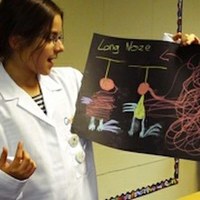 astroEDU is the new educational platform dedicated to astronomy, space and Earth science, designed for teachers of schools of every order and grade also addressed to students, parents and merely curious people.
The new educational tool was presented during the 61st congress of the Italian Astronomical Society and is promoted and curated in Italy by the National Institute for Astrophysics (INAF) and the Italian Astronomical Society (SAIt), with support by the International Astronomical Union (IAU) and the Observatory of Leiden, The Netherlands.
astroEDU is designed to host certified educational activities for students of any age and teachers who can use the activities shared as well as be the authors of the resources. Users are free to submit their own activities which will then follow a peer review process similar to that used for scientific articles.
The new educational platform is part of a large programme of the International Astronomical Union and the Italian version is the first one implemented in a language different from English. The new online journal will have editorial independence, consistently with the objectives and methods of the international programme.
Source: ResearchItaly