GRB 190829A - A Showcase of Binary Late Evolution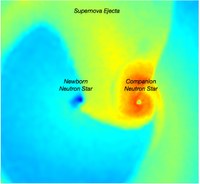 GRB 190829A is the fourth closest gamma-ray burst (GRB) to date (z=0.0785). Owing to its wide range of radio, optical, X-ray, and the very-high-energy (VHE) observations by H.E.S.S., it has become an essential new source examined by various models with complementary approaches.
In a new paper accepted for publication in ApJ, an international team (Yu Wang, J. A. Rueda, R. Ruffini, R. Moradi, Liang Li, Y. Aimuratov, F. Rastegarnia, S. Eslamzadeh, N. Sahakyan, Yunlong Zheng) studies the emissions from this celestial source and models the sequence of physical and related radiation processes in BdHNe and focus on individuating the binary properties that play the relevant roles.
For more information: