JUICE: JANUS SENT ITS FIRST IMAGES ACQUIRED IN SPACE
The instrument Jovis, Amorum ac Natorum Undique Scrutator (JANUS) passed the commissioning phase with full marks. It is a real test during which - 8 million km from the Earth - it opened its electronic "eyes", sending the so-called "first light", i.e. his first series of images, to the technicians and researchers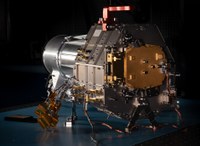 The JANUS camera onboard JUICE. Credits: Leonardo, DLR, IAA
Rome, 26 May 2023 - The instrument Jovis, Amorum ac Natorum Undique Scrutator (JANUS) passed the commissioning phase with full marks. It is a real test during which - 8 million km from the Earth - it opened its electronic "eyes", sending the so-called "first light", i.e. his first series of images, to the technicians and researchers. The optical camera, which has been travelling for just over a month on board the ESA Jupiter Icy Moon Explorer (JUICE) probe, was created by Leonardo under the responsibility of the Italian Space Agency (ASI) and with the contribution and scientific guidance of the Parthenope University of Naples and INAF.
JANUS has been designed to provide multi-spectral high spatial resolution imaging from violet light to near-infrared. It will allow studying in depth the surface of the icy satellites Ganymede, Callisto and Europa, also assessing their sub-surface habitability. In addition, it will acquire data on the other components of the Jovian system, including Io and its intense volcanic activity, many small and irregular satellites, and the ring system. Last but not least, JANUS will acquire data on Jupiter's atmosphere dynamics at different depths.
Last week, the JANUS camera was commissioned: the instrument was commanded from the European Space Operation Center (ESOC, Darmstadt) to check all its hardware and software functionalities. JANUS' main elements are a catadioptric telescope with a cover to protect from contamination, a baffle to reduce stray light, a filter wheel with 13 filters to select the wavelength range and a 3 Mpixel detector. The dedicated electronics unit controls the detector and digitalises its signal, while the central electronics unit distributes power to the instrument and controls the mechanisms. It also includes a computer with software that manages all instrument functionalities, receives telecommands and delivers telemetry and data to the ground through a satellite interface.
"JANUS has been designed to answer many JUICE mission's scientific questions," says Pasquale Palumbo (INAF in Rome), the team's principal investigator that designed, tested and calibrated the camera. "JANUS is very flexible. We can optimise acquisition parameters to the many different targets, observation requirements and conditions that JANUS will face".
Performed activities included a full hardware check, with all subsystems activated and monitored through the relevant telemetries, commanding different configuration settings, and execution of science operations to verify the nominal conditions of the acquisition chain (from the detector to interface with the spacecraft).
"JANUS has represented a significant technological evolution of the optical cameras used in Solar system exploration missions. The creation of this instrument was very complex and challenging. Still, the Leonardo company has fully achieved its goal, which will allow us to make significant progress in the knowledge of these moons, candidates to host any life forms", adds Barbara Negri, head of Human Flight and Scientific Experimentation for ASI.
The behaviour of the optical system was also verified by observing a star field around eta Cyg; the excellent status of JANUS critical optical alignment and the integrity of the visual elements were confirmed.
"A quick look at the acquired data shows that everything was nominal. So, after this intense on-ground session, we can say: we have a (fully commissioned) instrument!" concludes Palumbo.
---
More information:
JANUS is led by INAF-Institute for Space Astrophysics and Planetology in Rome in collaboration with INAF Padova and CISAS-Padua University, with hardware and software contributions from DLR-Institute for Planetary Research in Berlin, CSIC-Astrophysics Institute of Andalucia in Granada and Open University-Center for Electronic Imaging in Milton Keynes. The leading involved companies are Leonardo SpA (Prime Industry) and Sener. The reference Space Agencies funded JANUS for participating Institutes: ASI (lead funding agency), DLR, Spanish Research Ministry and UKSA.
Contacts:
INAF press office - Marco Galliani, ufficiostampa@inaf.it, +39 3351778428
ASI press office - Giuseppina Piccirilli, stampa@asi.it, +39 335 7821912