VST beyond 2021
From Apr 2022 the INAF-ESO agreement for the VST operations in Paranal will expire, and INAF will gain full ownership of the telescope. To explore the various options, INAF has appointed a working group to review the scientific potential of the VST telescope and to present to the INAF management the potential options on the future of telecope operations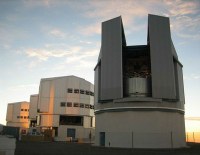 VST (an acronym for VLT Survey Telescope) is one of the largest telescopes in the world designed for wide-field surveys in the optical bands. The telescope has a 2.6-m aperture and is equipped with a single dedicated focal plane instrument: OmegaCAM, which is sensitive in the optical (0.3 - 1.0 microns) range over a 1 square degree field of view.
From Apr 2022 the INAF-ESO agreement for the VST operations in Paranal will expire, and INAF will gain full ownership of the telescope.
To explore the various options, INAF has appointed a working group "VST beyond 2021" to review the scientific potential of the VST telescope and to present to the INAF management the potential options on the future of telecope operations.
For more information:
visit the web section VST beyond 2021 maintained by INAF Scientific Directorate