First COSPAR Symposium - Abstract submission deadline extended
The First COSPAR Symposium will be held in Bangkok, Thailand, 11-15 November 2013. Abstract deadline has been extended to 30 June 2013.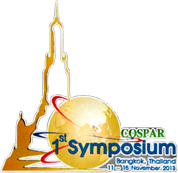 The 2013 COSPAR Symposium on "Planetary Systems of our Sun and other Stars, and the Future of Space Astronomy" is the first of a new series of events initiated by COSPAR, which aims to promote space research at a regional level in emerging countries.
The Symposium is multidisciplinary in nature and addresses topics ranging from astronomy, earth observation, planetology, astrobiology up to citizen science. The Symposium features plenary lectures, parallel and poster sessions, as well as training sessions. It is open to participants worldwide, and scientists, young professionals and students from the Asian region are particularly encouraged to participate. 

For abstract submission please visit:
http://www.cospar2013.gistda.or.th/ab-signin.php

If you plan to submit an abstract, please do so by 30 June 2013.